---
Dhikala Canter Safari Online Booking & Tariff - Jim Corbett National Park

Rated
3.5
/5 based on
613
customer reviews
₹ 1,600.00/Person* Available today!
Welcome to Dhikala Canter Safari Booking to Corbett National Park. Visitors can book online Canter Safari for Dhikala zone of Corbett National park. All the procedures of Canter Safari Booking at Corbett are managed by the forest officials as per the guidelines of India's forest department. Please note that we cannot influence the safari zone, safari driver and the naturalist guide as it is not in our hand. It is solely decided by the forest officials. Though all the zones have healthy population of tigers and wildlife sightings are reported more or less same. These all aspects are managed by the automated computerized system to ensure the equal distribution of safari vehicles in respective zones.

Dhikala Canter Safari Tariff / Cost (The price includes Permit and Our Service Charge)
| | |
| --- | --- |
| Price (Indian) | INR 1600/Person ( ONE Canter has 16 Seats ) |
| Price (Foreigner) | INR 3000/Person ( ONE Canter has 16 Seats ) |
| Zones | Dhikala |
| Timings | Morning 6:00 AM - 11:30 AM | Evening 12:00 PM - 5:30 PM |
Formalities:
The Traveller has to carry the same ID Proof as submitted in this form, while visiting Jim Corbett National Park.

ID Proof: DL Number, PAN Card Number, Voter ID, Passport Number (Only for Foreigners), etc.

The Traveller has to carry the same ID Proof as submitted in this form, while visiting Corbett National Park.

The Canter will be available at common point ( Corbett Reception, Ramnagar OR Dhangari Gate, Corbett ).

Each Traveller has to join the Canter at their own.

Pick-up & drop point for safari is Ramnagar city but can be done from any Hotel/Resort on extra cost which depends on its location.

Safari Charges will be NON-REFUNDABLE if permit is booked/confirmed.
Corbett Canter Safari Information
It is an additional standard for a trip to Dhikala, the deepest region of Corbett National Park. Here the park administration conducts the Canter Safari in two shifts. The first is from 0600 hrs. in the sunrise time and another in the afternoon from 1200 hrs. Both are around 05 hrs extensive to take pleasure in this canter safari. For those visitors who were unable to get their reservation at any FRH inside the Dhikala zone, this is the only way to explore Dhikala Forest even if they are staying outside the park in any Resort.
Dhikala Canter safari in Corbett is the best way to explore the Dhikala forest when you are staying outside the Corbett tiger reserve, touring by gypsy is not permitted in Dhikala zone during day time. However you can travel into this area by a canter which takes in 18 passengers and starts off from Ramnagar in the morning and afternoon respectively. Which canter went to Dhikala in the morning time it return to the base in afternoon, similarly afternoon canter comes back to the base in evening. These tours are called as Ramganga conducted tour and permitted by the Corbett Tiger Reserve.
The Dhikala area of Corbett National Park is probably the finest to observe wildlife in its natural habitat. The huge expanse of the grasslands, called "Chaurs" are the attraction of this area of the Park. The meandering Ramganga river adds to the beauty of the landscape and provides the essential water souscre to all wildlife. The reservoir forms a part of the largest man made lake to feed the Hydro electricity project at Kalagarh.
The opportunity of going on an Elephant ride for wildlife viewing is available from Dhikala besides a network of observation towers situated at the edge of the forest which are approachable by 4 Wheel Drive Jeeps. The location of the Dhikala Forest Lodge offsets its basic accommodation- though these facilities have been immensely improved - it is situated deep in the heart of the forest and wildlife can be observed can from the verandah of your room.The rooms at Dhikala have been renovated but still basic by common standards. Note: Apart from the above mentioned number of the safari, two canter safaris (16 seats per canter) are allowed especially in Dhikala tourism zone. The park authority of Wildlife Warden or in-charge may cancel your permit for any good and sufficient reasons to be recorded in writings.
Advance Booking Procedure
For booking request please provide us the following details:
The full name, age, sex of each visitor as printed same on the identity cards to be provided along with the confirmatory amount
Preferred travelling date & Safari timing (Morning/Afternoon)
Specific ID card number of your ( Voter Id, Aaadhar No, Driving license No etc)
Safari Entry fee paid in advance
E-permits are non-refundable if permit is booked/confirmed
Please carry the same ID card submitted during online booking
Please intimate us 30days in advance (for Indian nationals)
Foreign nationals can ask for booking 90 days in advance
Passport details are mandatory for making reservation of foreigner tourists
Safari permit is issued on first come first serve basis (subject to availability)
Terms & Conditions
Day visit to all zones are strictly regulated as per the scientifically calculated carrying capacity and only a limited number of vehicles are permitted entry during each morning and afternoon.
Permits for day visits to the Sonanadi Ecotourism zone can be obtained from the visitor reception center located at Kotdwar.
Permits for day visits to other zones are available online on our website.
Visitors are advised to acquaint themselves with gate timings and arrive well before the designated time to avoid any inconvenience.
Private vehicles are 'not' allowed entry for tourism purposes into the park and visitors use specially designed vehicles, registered with CTR for this purpose. Day visits to the Dhikala Ecotourism Zone are permitted only through the specially designed Canter buses via Ramganga Conducted Tours.
Visitors can also enjoy jeep rides at Bijrani and Dhikala ecotourism Zone, which is available on 'First come, first get' basis.
Canteen facilities are available at Dhikala, Bijrani and Gairal. At other locations, kitchen facilities have been provided.
Entry Formalities
As the entire periphery of the Jim Corbett National Park falls under restricted and protected area, so official permission is required to visit the core area of the tiger territory. There are two kinds of official permits issued by the government for entering into any safari zone of the park. Day visit permit (for jeep/canter safari) and Permits for night stay inside the Government forest lodges The day visit permits are required by Indian nationals as well as foreigners for entering into any tourism zone in Corbett National Park. Accommodation inside the park is possible after obtaining night stay permit that are issued by issuing authorities of Government officials.
Book Now Canter Safari
---
---
Help Center
Do you have questions before you fill the form? Frequently Asked Questions?
View All FAQs

Have any kind of issues? Contact us!
Customer Support
Call Us:
Mobile (24X7):
+91-9756555501
Office (10 AM - 5:00 PM):
+91-9756555511

Jim Corbett National Park, India
Email : [email protected]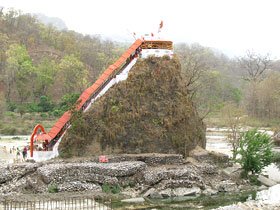 ---
---
Our Privacy Policy for Jim Corbett National Pak
---
Find Out Route Map for Jim Corbett National Park
---
How to come prepared to Jim Corbett National Park
jim corbett national park : Jeep Safari in jim corbett national park, elephant safari in jim corbett national park, canter safari in jim corbett national park, night stay accommodation in corbett forest lodge in jim corbett national park, hotels in jim corbett national park, resorts in jim corbett national park, hotels resorts in jim corbett national park. corbett forest rest house bijrani dhikala jhirna sonanadi durgadevi dhela in jim corbett national park. Visit Corbett Facilities Insight Corbett Travelling Inside the Park Monitoring And Research Forest Rest Houses Corbett Tiger safari jim corbett national park India corbett Places corbett elephant safari : online booking and Permit with best price best rates best cost best tariff best services.
jim corbett national park : dhikala forest lodge, bijrani forest lodge, jhirna forest lodge, dhela forest lodge, corbett forest lodge.
jim corbett national park jeep safari, jim corbett national park elephant safari, jim corbett national park dhikala canter safar, jim corbett national park hotels and resorts, jim corbett national park night stay accommodation, jim corbett national park hotels, jim corbett national park resorts, jim corbett national park best hotels and resorts, jim corbett national park best hotel and resort, jim corbett national park best hotels, jim corbett national park best resort. Online Booking & government official website of jim corbett national park online booking and reservation permit available here.
�