---
Tiger Camp Resort
Village Dhikuli, Ramnagar, District Nainital, Jim Corbett National Park
Offered Price: ₹ 6,499.00/Night/Couple
With All Meals (1 breakfast + 1 lunch + 1 dinner)
Tiger Camp is located on the periphery of Corbett National Park surrounded by thick jungles on one side and river Kosi on the other. Tiger Camp offers deluxe cottages and rooms, superior rooms & standard cottages. All are with ensuite facilities. All cottages are air-conditioned. Each room / cottage is equipped with a double / twin bed, coffee table, chairs, clothes rack, air-conditioner etc. Each one has an attached western style toilet and a hot shower. Tiger Camp, Corbett National Park is a perfect destination for nature lovers, bird watchers, and wildlife enthusiasts. Set near the outskirts of the park, it offers stunning views of the forest and the gushing river Kosi. Staying here is an experience that must not be missed.
Trekking, rock-climbing, rappelling, tiger sighting and bird watching activities in and around the Corbett Park are bound to make your days exciting; additionally you can visit nearby museums, temples and waterfalls while visiting Corbett.
Tiger Camp Resort is rated among the top wildlife resorts of Corbett, and is the perfect place to take rest from the hectic city life and work schedules. Our expertly crafted cottages and refined hospitality act as the perfect antidote for a wearied body and mind; rejuvenate yourself, Book your stay now! The Tiger Camp Resort is located in a scenic landscape that lies between the reserved jungles of the Jim Corbett National Park and River Kosi. The resort offers magnificent views of nature and the famed wilderness of Kumaon. Fun filled pastimes, exciting adventure activities and a serene repose amidst nature's lap, are all brought together in an appealing package by us at the Tiger Camp Resort in Corbett.
Location
Located on the periphery of Jim Corbett National Park, Surrounded by thick jungles on one side and the long stretch River Kosi flows on the other side gives the resort wonderful location to stay with while you are out on wildlife weekend gateway. So if you are looking to experience a stay amidst forest or jungle beauty, certainly this resort would be the best option so far. Tiger Camp Resort Corbett is strategically located at a small village named Dhikuli in Ramnagar city. It is approximately 06 Km away from Ramnagar Railhead.
Accommodation
Corbett Tiger Camp offers well appointed deluxe cottages and rooms, superior rooms and standard cottages. These cottages are built up in such an excellent manner that visitors may have the pleasure of living in tented camp as well. Cottages and rooms are pegged under high thatched roofs that provide an ambiance of pure jungle. All the accommodation is equipped with double/twin bed, coffee maker machine, clothes rack, chairs, sofas, air condition etc. Each room is attached with private bathrooms and showers running with hot and cold water 24*7.
For wildlife and nature lovers, the resort offers Jeep, Elephant and Bird Safari through the dense forests of Jim Corbett National Park. Besides tiger sighting and bird watching, the resort offers a whole range of exciting activities like trekking, guided nature walks, rock climbing, fishing and rappelling. Besides, guests can seek the assistance of hotel staff for planning short and long excursions as well. Room service, laundry, Wi-Fi, business center and swimming pool are some of the additional facilities on offer.
The facilities include parking, transportation service, doctor on call, 24hr front desk, 24 hr room service, air conditioning, laundry, full power back-up, business center, conference facilities, audio/visual equipment and LCD/projector. For a brush on the wild side jeep safari, elephant ride, bird walks, Himalayan visits can be arranged on request. They also host cultural events such as folk music and local performances. A multi-cuisine restaurant, Gol Ghar specializes in Indian, Continental and Chinese cuisines served in buffet style. Their a-la-carte menu includes American breakfast, Indian lunch, bar-be-que and continental dinner.
The dining hall at the Tiger Camp serves delectable Chinese, continental and authentic local Kumaoni cuisine. The dining hall bustling with guests at the end of a tiring day at the jungle is the venue for interactions. And there's the bonfire singing and dancing and cultural programs to light up your evenings.
Gol-Ghar meaning the circular house is the main attraction of this hotel. It is a circular dining area, which is divided into two units – one is a large dining- seating area that accommodates 70 people and another one is a smaller eating area that is mainly used for barbeque. This restaurant serves both vegetarian as well as non-vegetarian to suit your diet with variety cuisines like Indian, Continental to choose from.
Rooms
Tiger Camp, Corbett offers its guests comfortable rooms with a pleasant ambiance and various amenities. The elegant, earthy decor and the natural surroundings just add to the overall experience. Air conditioning, telephone, private bathroom, safe and newspaper are some of the facilities provided in the rooms.
Away from the hustle and bustle of city life, Tiger Camp offers a peaceful stay in its 4 Superior Rooms and 14 Deluxe Cottages featuring earthen decor and elegant furnishings. All units are complete with modern amenities like AC, TV, tea/coffee maker, wardrobe, mini fridge and running hot and cold water in the attached bath. Cottages come with a small kitchen and extra living spaces for added comfort. Guests can enjoy views of the spectacular panorama from the large windows.
Room Type
Standard Cottage
The standard cottages are usually recommended to couple or single travellers. The cottage comes with a cozy room and a individual single balcony. All the standard cottages are air-conditioned, equipped with a comfortable double bed, clothes rack to keep necessary belongings, coffee table along with a chair and a attached western-style bathroom with hot shower facilities.
Superior Cottage
This vast cottage surrounded by the Sylvan greets you with songbirds to the hotel. This cottage is recommended to guests coming in large groups or families. This cottage offers four huge rooms and opens out into a wide lush green lawn. Each superior cottage comes with a large double bed, ample seating space for family and large groups, mirror, attached bathrooms with a large bath and a writing table.
How to Reach
Tiger Camp, Hotel in Corbett nestles in the foothills of the Himalayas, in the state of Uttarakhand in North India. It extends over 525 sq km and is crisscrossed with several ridges and ravines. The park is a large valley of the dense deciduous forest with the beautiful rivers of Ramganga and Kosi flowing through its entire length and breadth. Its famous grasslands offer the best opportunity to view wildlife. The elevation of the Park Range from 410 m to 1220 m.
By Road :
Jim Corbett is well connected to major cities of India. This national park is around 15 kms from Ramnagar, from Lucknow, the National Park is 433 kms via Bareilly and from New Delhi its 300 kms away.
By Rail :
Ramnagar railhead is the nearest railway station to Jim Corbett Wildlife Sanctuary. This railway station is connected to major cities of India, the nearest being New Delhi railway station. Ranikhet Express is one of the trains that operate from New Delhi railway station to Kathgodam railway station. This train runs daily between the two places. Bus or taxi are easily available that will take you to Jim Corbett. Also, trains are available from Moradabad railway station.
By Air :
Jim Corbett National Park doesn't have an airport. If one wants to go by air, Phoolbagh in Pantnagar is the nearest airport. It is located 78 km away from Jim Corbett. Pantnagar airport is well connected with major cities in India, so one can easily reach there. Delhi which is 300 km away is the nearest international airport for the people travelling from abroad. Flights from Lucknow and New Delhi travel to Pantnagar twice a week, so one can arrange accordingly. One can easily find taxi from Pantnagar to Jim Corbett.
Google Map
Send Query
---
Help Center
Do you have questions before you fill the form? Frequently Asked Questions?
View All FAQs

Have any kind of issues? Contact us!
Customer Support
Call Us:
Office (10 AM - 5:00 PM):
+91-7983013274
Mobile (24X7): +91-7983013274
+91-7983013274

Jim Corbett National Park, India
Email : onlinecorbettbooking.uk@gmail.com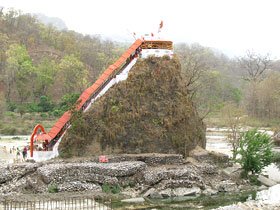 ---
---
Our Privacy Policy for Jim Corbett National Pak
---
Find Out Route Map for Jim Corbett National Park
---
How to come prepared to Jim Corbett National Park
jim corbett national park : Jeep Safari in jim corbett national park, elephant safari in jim corbett national park, canter safari in jim corbett national park, night stay accommodation in corbett forest lodge in jim corbett national park, hotels in jim corbett national park, resorts in jim corbett national park, hotels resorts in jim corbett national park. corbett forest rest house bijrani dhikala jhirna sonanadi durgadevi dhela in jim corbett national park. Visit Corbett Facilities Insight Corbett Travelling Inside the Park Monitoring And Research Forest Rest Houses Corbett Tiger safari jim corbett national park India corbett Places corbett elephant safari : online booking and Permit with best price best rates best cost best tariff best services.
jim corbett national park : dhikala forest lodge, bijrani forest lodge, jhirna forest lodge, dhela forest lodge, corbett forest lodge.
jim corbett national park jeep safari, jim corbett national park elephant safari, jim corbett national park dhikala canter safar, jim corbett national park hotels and resorts, jim corbett national park night stay accommodation, jim corbett national park hotels, jim corbett national park resorts, jim corbett national park best hotels and resorts, jim corbett national park best hotel and resort, jim corbett national park best hotels, jim corbett national park best resort. Online Booking & government official website of jim corbett national park online booking and reservation permit available here.